Main Content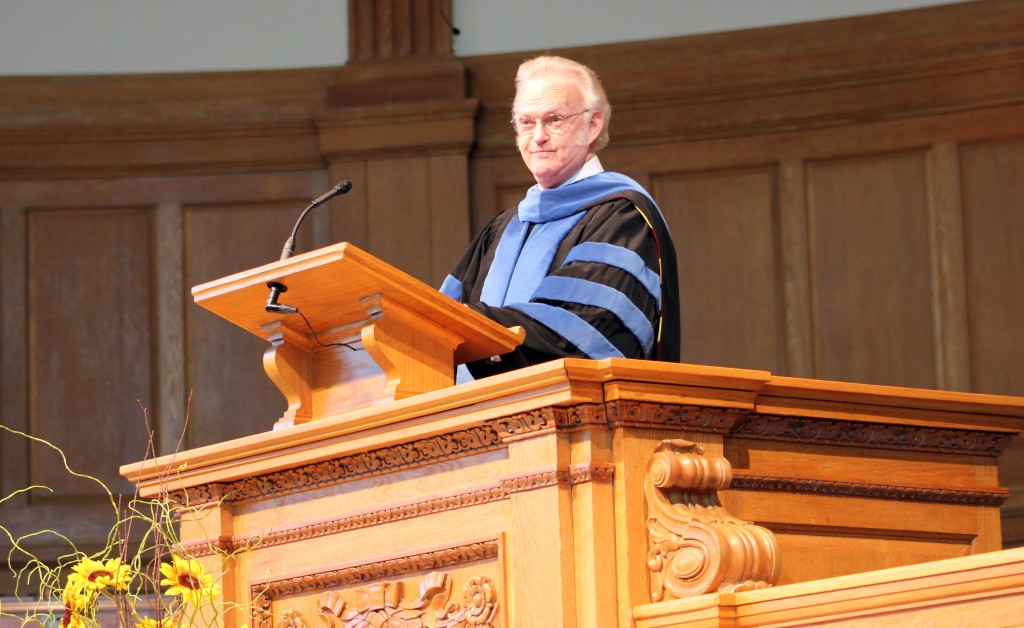 by C. Mark Batten and Andrea Simmonds (MDiv '18), Office of Communications
On September 1 the School of Divinity community gathered for Fall Convocation, an annual event that formally opens the academic year. This year's speaker was E. Frank Tupper, professor of theology, who is beginning his final year on the faculty prior to his retirement in June 2016.
Introducing Professor Tupper, Dean Gail R. O'Day quoted two alumni who provided reflections on their experience with Tupper in class and conversation to acknowledge the impact he has had as a theologian and teacher.
"Professor Tupper lives the tough questions of our faith by leaning into their joyful and sometimes painful mysteries. He helped me to articulate my own theological sensitivities in light of my life experiences in a way that goes far beyond me."
"Professor Tupper never averted the hard questions. If we were to affirm the God of life, Tupper's classes demanded that we not only engage the dark places, but we explore them into the pain of existence, even at the place of cross."
Tupper delivered an address entitled, "Why Theology Matters," which gave new and returning students a fresh perspective on the why they are pursuing a call to ministry. He also highlighted the importance of developing an articulate and informed understanding of God.
"Why theology matters to you here at the divinity school ought to be transparent," Tupper said. "You already are a theologian. You came to divinity school with an embedded theology. Some of you have already began to deconstruct and reconstruct the theology you have been taught. This is a never ending task that will continue for the rest of your life."
Professor Tupper accomplished the goal of his address – to encourage students to think about why theology matters in their educations and in their ministries. The process that students begin in divinity school will continue throughout their ministries, which will better equip them to help and encourage the communities they will serve to know how to talk about their own faith and experiences of God.
Austin Thomas, a third-year Master of Divinity (MDiv) student, responded, "As ministers we need to teach our congregants to think theologically. The church too often tells congregants them what to think rather than nurturing them in the importance of thinking theologically themselves. And giving them the freedom to express their questions and not only answers."
"What struck me most was how Professor Tupper articulated the process by which we pull from the areas we study to create a comfortable theology," said Kerry Gibbs, a first-year MDiv student. "As someone just beginning this educational journey, I look forward to exploring the process of shaping and reshaping my theology, and how I begin to move through that new world."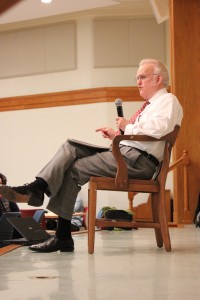 When asked what he thought students should take away from their time in the Master of Divinity program, Tupper responded, "I hope that every student learns to struggle with the great issues of faith with the awareness that the struggle continues throughout life. Since the question of God is at the center of theological education and implicit in everything that we do it is not easy, but invigorating."
Tupper received a Bachelors degree from Mississippi College, Master of Divinity from Southwestern Theological Seminary, and Ph.D. from Southern Baptist Theological Seminary. He began teaching theology at the Southern Baptist Theological Seminary in Louisville, Kentucky in 1973 and taught there until 1997 when he joined the faculty of the School of Divinity as a founding member. Tupper is the author of A Scandalous Providence: The Jesus Story of the Compassion of God (Mercer University Press, 2013), beloved professor, and ordained Baptist minister.
A transcript of the address is available.
Categories: Faculty, News, Special Events
Recent Posts
June 1, 2023

May 19, 2023

April 5, 2023