Main Content
by C. Mark Batten, Office of Communications
In the fall semester of 2014 professors Katherine Shaner and Michelle Voss Roberts offered an innovative series of courses on embodied Christianity. They received a teaching innovation grant from the Provost's office to support these courses.
Shaner, assistant professor of New Testament, taught a course entitled, Women and Slaves in Early Christianity, which considered how marginalized persons, particularly women and slaves, participated in early Christian communities. The course examined New Testament texts as well as other early writings from the first three centuries of the early church.
"The historical focus on women and slaves is significant because they are so often written out of our collective Christian history," said Shaner. "As we looked at Jesus' parables, Paul's letters, and other early Christian writings we discovered voices and perspectives rarely discussed in church settings. We developed strategies and practices for bringing those voices and perspectives into the stories we tell in our faith communities about the earliest Christians."
Voss Roberts, associate professor of theology, drew on medieval Christian contemplative texts, including those of Marguerite Porete, Julian of Norwhich, and Teresa of Avila, to guide her class, Classics of Contemplative Theology. Students experimented with bodily practices related to meditation, food, and community through a three-week Monastic Project, which was pioneered by Calvin Mercer of East Carolina University.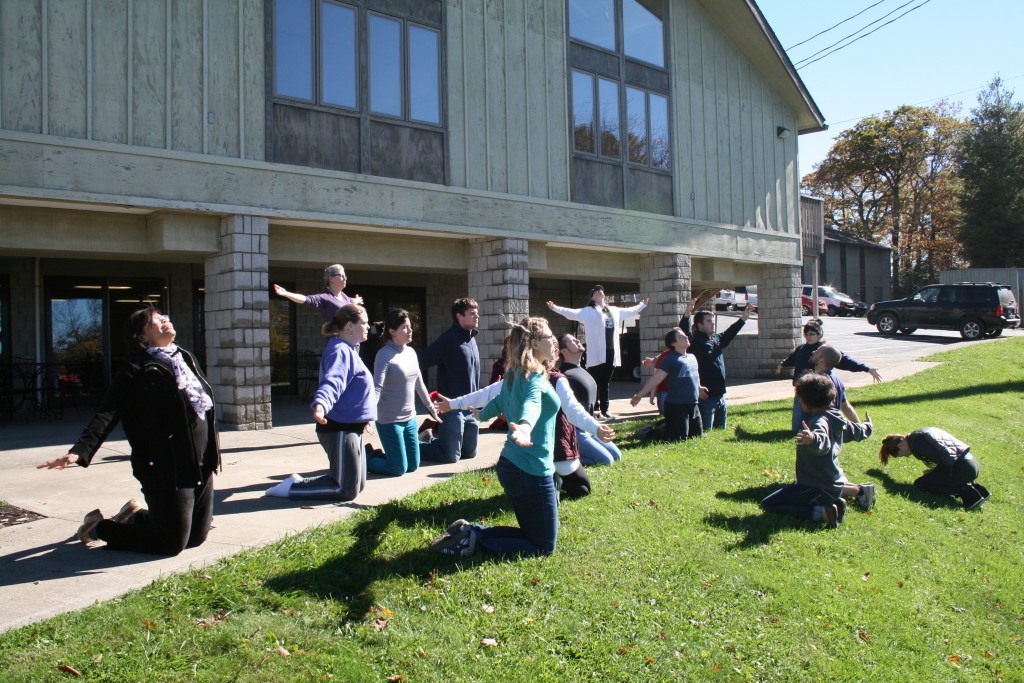 "We all have practices that become habitual," said Voss Roberts. "Using historical guides to recover practices we may have forgotten brings a new contemplative awareness and cultivates awareness of the divine presence in and through the body."
These two courses, which met separately during the semester, were linked together with a weekend retreat held at Blowing Rock Conference Center. The retreat time enabled students in the two courses to make connections between bodies, social status, and spiritual disciplines (scripture reading, prayer postures, contemplation with images, dance, and meditation).  The retreat was structured around worship experiences that asked students to be aware of the way their bodies were engaged in prayer, to worship with sight, smell, taste, and touch, as well as hearing, and to use memory as a tool for communal worship. Shaner recalled the first night when they asked students to imagine what it was like for early Christians who worshipped together at night in the Roman catacombs. Crowded together in a small dark space with a few candles, the service followed the outline of the western mass, but the prayers, songs, and even quotation of scripture  came from participants' memory in the worship moment. "We weren't worried about 'getting it right,' and so a rich, multi-lingual, multi-tradition worship experience emerged from the group," said Shaner. "No one wanted to leave at the end."
Other worship experiences asked students to try prayer forms that were unfamiliar and, for some, uncomfortable. In another experience, students were asked to simply wander about the chapel, praying with their eyes, experiencing the smells of incense and beeswax candles, and hearing scripture read over the din of conversation. "Our guiding questions were, what do you see? What are you encountering?," said Voss Roberts. "Students were not sure how to act in a chaotic, unfamiliar, and decentering environment." She added that this kind of decentering helped everyone examine how and why our own traditions feel so comfortable.
First-year student Roxanne Cuff was one of the students who took both Shaner and Voss Roberts' courses. "They not only opened how I view the teaching of the Bible, but have equipped me with beautiful spiritual practices to enfold within my life," she said. "To look at scripture through the lens of the marginalized has been both enlightening and empowering as I incorporate the newly-learned practices into my daily life."
Together, the two courses and retreat connected distinct areas of study – biblical studies, history, and theology – by inviting students to experience and learn with their whole bodies. In doing so, students conversed about these distinct fields in new ways.
Recent Posts
June 1, 2023

May 19, 2023

April 5, 2023