Main Content
by C. Mark Batten, Office of Communications
Every year School of Divinity students are exposed to diverse religious and cultural perspectives by participating in courses that include a travel component, known as multicultural contexts for ministry courses. Several destinations are travelled to annually, such as the Appalachian region of western North Carolina and Nicaragua. Others, mainly international contexts, are visited on a rotational basis, like Egypt, India, and Israel.
Fierce Landscapes, an eleven-day annual immersion experience in the Appalachian region, is led by Bill Leonard, Dunn Professor of Baptist Studies and professor of church history, and allows students to engage, learn and discuss the context, content, and challenge of ministry in the region. Site visits include churches, schools, settlement programs, farms, and community agencies. Students also have the opportunity to talk first-hand with clergy, laity, activists, and other community leaders. As part of the course work students develop a research project.
Recent graduate, Nick Stewart (MDiv '14), exemplifies the goal of multicultural ministry courses, which is to promote critical engagement with contemporary religious life and suggest new possibilities for ministry.
Stewart chose to visit Appalachia in January 2014 because of his family's roots in the area. "I knew my experiences and encounters in the region would surface questions I have never really had the opportunity to think about," he said. Following his time in the region he completed an independent study with Leonard, exploring obituaries and memorials that were published in annual minutes of mountain Baptist associations.
Reading primary source materials, Stewart had the opportunity to engage the region's deeply rooted theology and heritage, and learned how this community's religious beliefs evolved from generation to generation. Through his research he identified the theological language that shaped the faith constructions of traditions like Primitive Baptists and Old Regular Baptists.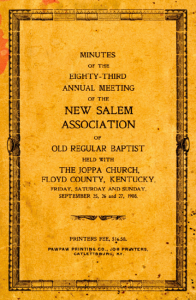 For example, Stewart highlights one obituary that said the deceased suffered from "heart trouble." Stewart wrote, "The phrase 'heart trouble' is common among mountain preachers to describe the unsaved; they have 'heart trouble' because Jesus is not 'in their heart.'"
In May of this year, Stewart presented his research at the annual meeting of the National Association of Baptist Professors of Religion (NABPR) in Raleigh, N.C. and is currently preparing his research for publication in "Perspectives on Religious Studies," a quarterly publication of NABPR.
"Since I first read the Primitive Baptist obituaries I have hoped that someone would give attention to their amazing context and content," Leonard commented. "Nick has done that with insight and sensitivity, and I am delighted that he could share his excellent research with other historians and students of Appalachian and American religious studies."
"Without the opportunity to explore Appalachian Christianity first-hand at Wake Forest I would not have been able to transform my interests into a passion," Stewart said. "It is great that Wake Forest requires these types of courses as a part of the curriculum."
New multicultural contexts for ministry courses are added annually, providing students exposure to a variety of public religious leadership settings. Most recently, the School of Divinity has partnered with Adamah, a fellowship of program of Hazon, an organization that creates healthier and sustainable communities in the Jewish world and beyond. Each summer, students have the opportunity to participate, hands-on, in organic farming while exploring the ecological roots of the Hebrew Bible as practiced by a modern-eco Jewish community in Connecticut.
Links of Interest
– 2012 Fierce Landscapes Blog
– "Tasting the Kingdom" by Bill Leonard (from the 2015 Fierce Landscapes trip)
– Appalachian Ministries Educational Resource Center
– Adamah: "Teaching Memories" (a blog by Professor Jill Crainshaw)
– Adamah featured in New York Times: "New gleanings from a Jewish farm"

Recent Posts
June 1, 2023

May 19, 2023

April 5, 2023