Main Content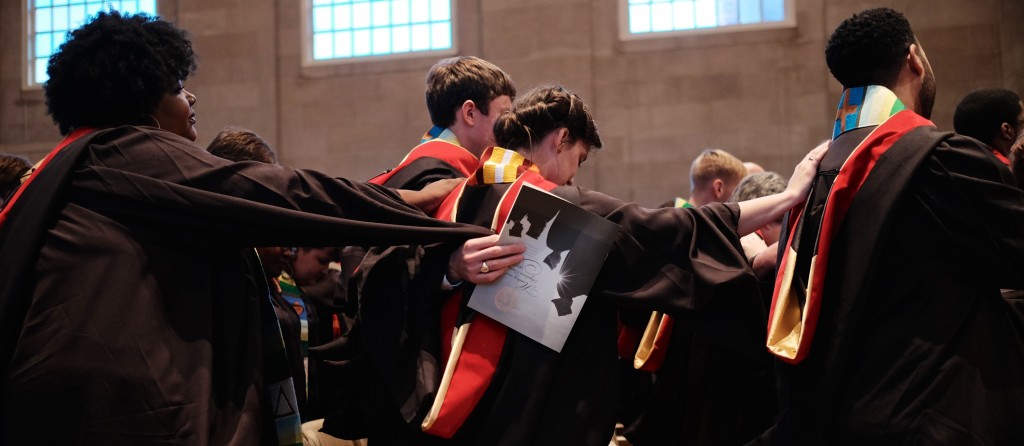 Media Contact: Mark Batten, 336.758.3959
Wake Forest University conferred degrees to 1,861 graduates during Commencement held on Monday, May 18. Of the graduates, Master of Divinity degrees were awarded to thirty-eight students at the School of Divinity. Two divinity graduates received joint degrees, one with a Master of Arts in Counseling and one with a Master of Arts in Education.
The School of Divinity held two ceremonies honoring graduates, a hooding ceremony on Saturday May 16, and a diploma ceremony following Commencement on Monday.
The hooding ceremony, planned by members of the class of 2015, highlighted the diverse settings of religious leadership members of the class of 2015 are called to, work that is not always easy or safe: from renewing relationships with creation and affirming lives which have been relegated to invisibility, to reforming imprisonment systems that warehouse rather than restore and prophetically preaching justice, peace, and healing.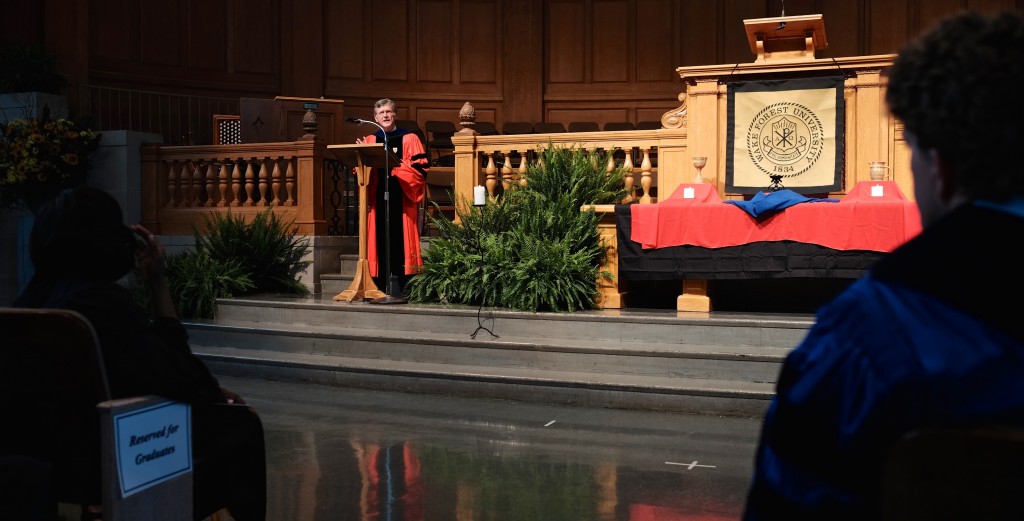 The graduating class selected Bill J. Leonard, Dunn Professor of Baptist Studies and Professor of Church History, with whom they all studied church history as the hooding speaker. In his remarks, based on Isaiah 58, he encouraged graduates to "street preach," living into the ideals highlighted in the school's mission statement: justice, reconciliation, and compassion.
"Amid all the research papers, exams, and internships, I hope you have learned that poor people, hurting people, and quirky people are not simply gospel fodder or the sentimentalized, disabled, or disadvantaged," Leonard said. "They all have their own stories and hopes, like all of us. Sustaining the life of the destitute requires seeing beyond their destitution. Where will this response to oppression and dehumanization take us? Into the streets, carrying tangibilified grace into the parched places of God's world."
During the ceremony, Gail R. O'Day, Dean of the School of Divinity, made the following recognitions:
Jo Ann Trethaway, operations manager, received the annual Bill J. Leonard Distinguished Service Award Pro Fide Et Humanitate to honor her sixteen years of distinguished employment and service. Later this summer, Trethaway will retire after being on staff at the School of Divinity since its opening in 1999. The service award is given annually to someone who embodies the principle of Wake Forest's motto of Pro Humanitate and the School of Divinity's mission.
James Powell, associate professor of classical languages at Wake Forest College, was thanked for his dedication to teaching School of Divinity students New Testament Greek since the School welcomed its first students in 1999. Powell is retiring from the university this year after more than 20 years of teaching, student mentoring, and institutional leadership.
At Monday's university ceremony, Stephen Colbert, comedian, political satirist and late night television host, gave the keynote address with timely punch lines and practical advise.
"Find the courage to decide for yourself what is right and what is wrong, and then, please, expect as much as the world around you," he said. "Try to make the world good according to your standards. It won't be easy. Your job, Pro Humanitate, is the prove the previous generations wrong on issues like the possibilities of ending racial tensions, getting money out of politics, and lowering the world's carbon emissions."
Jonathan L. Walton, Plummer Professor of Christian Morals at Harvard University, Pusey Minister in Harvard's Memorial Church, and a professor of religion and society on the faculty of Harvard Divinity School, received an Honorary Doctor of Divinity and Dean O'Day vested the University's hood upon him during Monday's ceremony. In 2010, he taught a class at the School of Divinity on gender politics and the public ministries of Martin Luther King Jr. and Malcolm X during the Civil Rights and Black Power movements.
Walton also gave the Class of 2015's Baccalaureate address.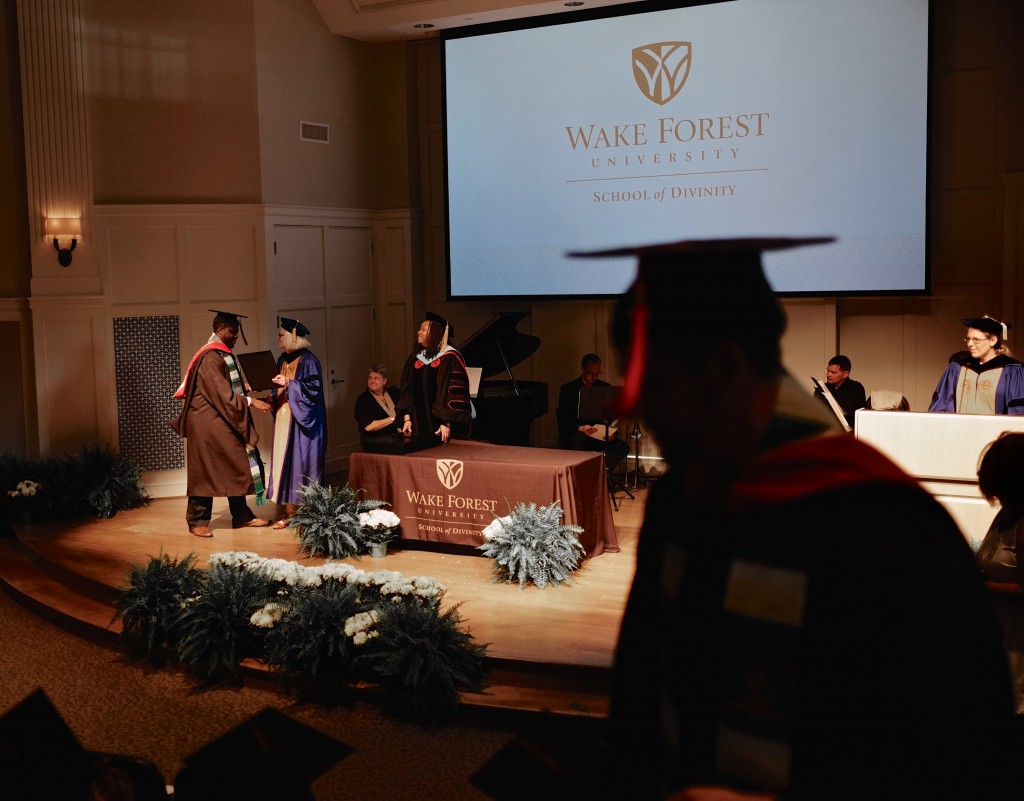 At the School of Divinity's diploma ceremony that immediately followed the all-University festivities on Hearn Plaza, Dean O'Day invited graduates, referencing Psalm 23 and John 10:22-29, to remember that even though their new professional identity will be "pastor," the identity that defines their ministries is that they are sheep first.
"You came to divinity school to learn to listen to and for the shepherd's voice, to follow where the shepherd leads, to receive the gifts the shepherd prepares," O'Day said. "The life of ministry and the life of faith is remembering you are sheep, not the shepherd, and sharing with all in the restorative, grace-filled gifts of God."
Congratulations to the Class of 2015!
Links of Interest
– Video: "A Calling is…"
– Video: Colbert's Commencement Address
– Video: Walton's Baccalaureate Address
– Selected Photos from the School of Divinity Ceremonies

– Audio: "Restoring the Streets," Bill J. Leonard
– Audio: "Called to be Sheep," Gail R. O'Day
Categories: Graduation, News
Recent Posts
June 1, 2023

May 19, 2023

April 5, 2023