This Week: Oct. 10 - 16
Published:
October 7, 2011
 We serve God; we love God; we serve and love our neighbors
in commune per vocatione—in community, through vocation.
Martin Luther
Faith communities, as they work and worship together, weave onto the tapestry of human living a wisdom that cannot be fully captured in a textbook or through instruction in a classroom.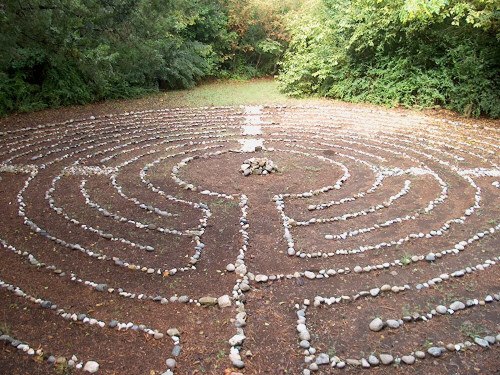 Whether it is in a storefront worship space or a century-old church building on a winding mountain road, whether it is in a shelter for people who are homeless or a soup kitchen in the city, what happens in the work of ministering communities is, in many ways, a mystery.  People from a diversity of places, carrying with them a diversity of life stories, journey to places where faith communities gather and minister, bringing with them the questions and concerns, the joys and sorrows of their daily lives. Then, through actions of singing, eating, and washing, in objects of table, bread, wine, and water, through hearing and enacting God's Word as they feed one another and feed the hungry, those gathered become more than they are as individuals. They become communities of new life in Christ. They become a people who together embody God's presence through their actions of care and justice in the world.
The work and worship of communities of ministry are also artistry. Through ministry, people of faith paint onto the stark landscapes of a hurting world the colors of God's grace. Through the ongoing artistry of life together in community, God's story with God's people unfolds in both familiar and unexpected ways.
Through internships in varied ministry contexts, Wake Forest University School of Divinity students encounter God's mystery and participate in communal artistry. Students also experience through internships how classroom learning and the wisdom of faith communities is interwoven and mutually transforming.  Theology is birthed and dwells in the day-to-day activities of congregations and not-for-profit ministries. As students participate in internships, they learn how to name the theological wisdom that resides in communities even as they are challenged to think reflectively about their own theologies and ministerial commitments.
This year, School of Divinity students are engaged in varied ministry contexts through their participation in Art of Ministry courses. What I have learned over a number of years of hearing about internship experiences is that professional formation for ministry happens as students integrate classroom learning, life experiences, cultural realities and pastoral skills. If this is the case, then vocational formation is, at its core, a dialogical journey that students undertake with all of those in classrooms and in internship communities who strain their ears day by day to hear in their lives and in their work God's voice. For internship settings and leaders within them who mentor our students, we are grateful for they play an important part in our school's mission of equipping students to be agents of justice, reconciliation and compassion.
Some Internship Settings for 2011-2012
Ardmore Baptist Church
Campus Crusade for Christ
Campus Kitchen/Volunteer Services
Cooperative Baptist Fellowship, North Carolina
Christian Golfers Ministry
Church of the Holy Spirit Fellowship
Daryl Hunt Project for Freedom & Justice
Faith Soldiers Word Ministries
Faith Step Ministries
First Baptist Church, Elkin
First Christian Church
Greater First United Baptist Church
Green Street United Methodist Church
Greensboro Urban Ministry
Institute for Dismantling Racism
Jerusalem Baptist Church
Konnoak Baptist Church
Lenoir Rhyne University Campus Ministry
Maple Springs United Methodist Church
One Church
Parkway United Church of Christ
Peace Haven Baptist Church
Peace United Church of Christ, Greensboro
Salem Presbyterian
Shallowford Presbyterian Church
Trinity Presbyterian Church
United Church of Chapel Hill
United Metropolitan Missionary Baptist Church
VIA Faith Community
Wake Forest Baptist Church
WFU Chaplain's Office
Winston-Salem First
Winston-Salem First Assembly Preschool
Winston-Salem Junior League
For more information about internships, contact John Senior, Director of the Art of Ministry program.
In the whirl, in the stirring of subplots and counterplots, we find places in relation to others whose story about the larger story forms our movements and gives us clues to the larger action into which we try to fit the motions of our days and years. To be in vocation means to grow in a "grace-full" fitting of our dance to the large movement of the core plot… To be in vocation means to develop the talents and gives one has been given for the sake of enriching and moving the whole drama-dance toward the climactic fulfillment envisioned by the script.
– James Fowler, Becoming Adult, Becoming Human
News from The Office of Academic Affairs
Spring advising and registration begin on October 24, 2011. 
The first day of registration for the spring term is October 31, 2011. 
The Spring 2011 course schedule will be available online soon.
Upcoming at the School of Divinity
Coffee Hour on Thursday, October 13 is cancelled. You are encouraged to register and attend:  
From Hostility to Hospitality: Immigration and the Church
Lower Auditorium:  11am-12:30pm
Lunch included with pre-registration.
Sponsored by the North Carolina Council of Churches, the free luncheon on immigration will bring together religions professionals, faith leaders, and students.
>> Register Now
Blessings on your week,
  Jill Crainshaw
  Associate Dean for Academic Affairs